sustainable design: 7 projects giving trash a new life
Can waste be transformed into something beautiful?
This is the question that many designers are asking themselves lately. And the answer – an encouraging YES – is what is inspiring new sustainable design projects.
This approach challenges the common belief that producing something will necessarily create some sort of residual, which will be just waste. Seeing waste as a resource is also at the core of a circular economy model and can be incredibly powerful in changing our approach to materials.
So let's see a few examples of designs created out of trash!
plastic
Plastic is definitely the most discussed material these days. All design fairs are talking about it and social media are full of anti-plastic hashtags (#nomoreplastic #plasticfree …just to name a couple).
At the same time, new projects are coming up to save plastic from the status of waste. For instance, these lovely marbled coasters give new life to plastic shopping bags, film packaging and bubble wrap made of LDPE (Low Density Polyethylene). They've been presented at London Design Fair as part of the Material of the Year exhibition 2018, which called for innovative ways to reuse plastic.
These beautiful cabinet knobs are also helping to clean the environment, as they're made with plastic found in the ocean!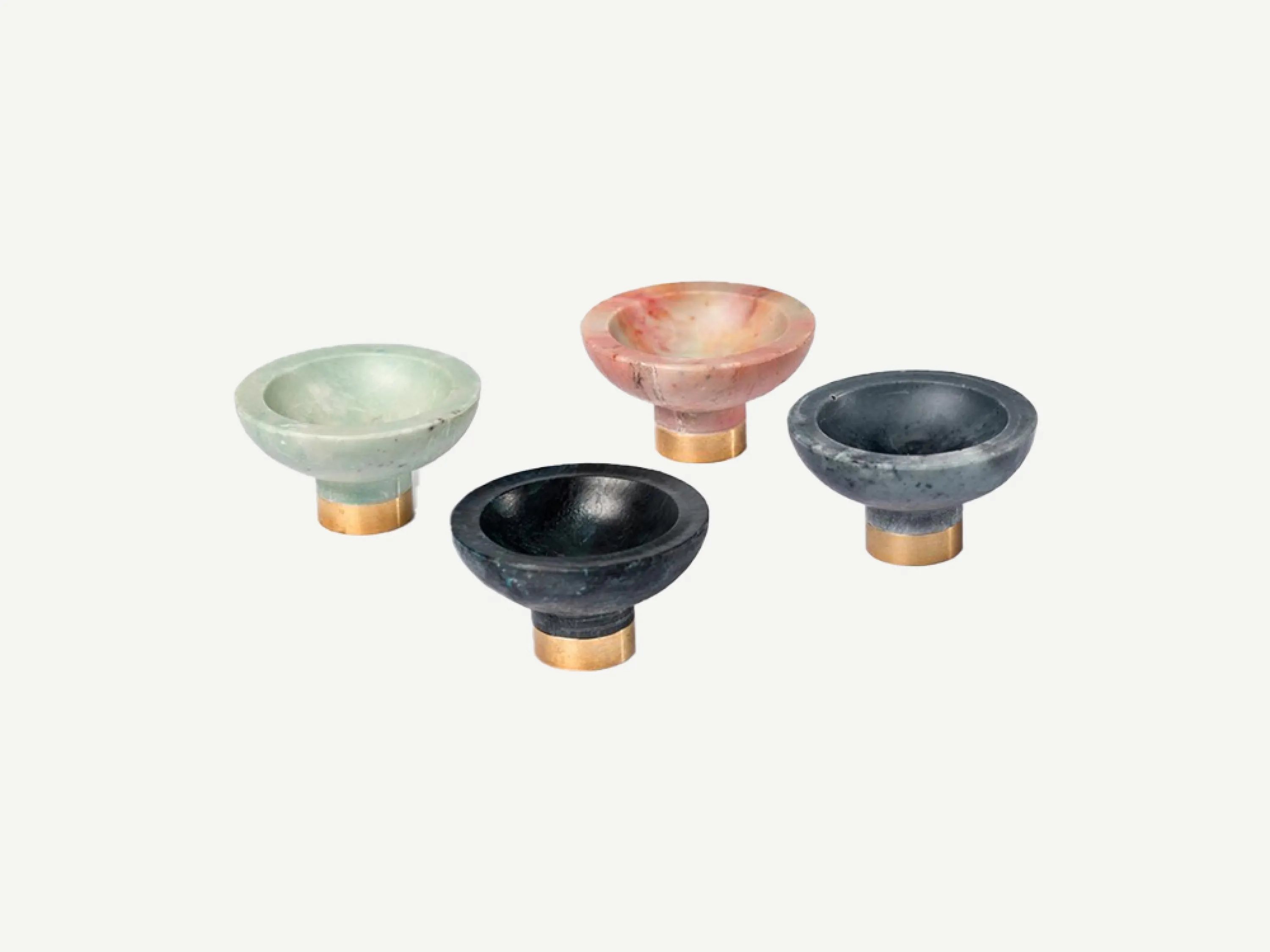 Plastic can also be turned into felt, which opens a number of applications. For example, Muuto has created a lampshade out of plastic bottles!
Speaking of plastic and sustainable design, the worldwide famous gallerist Rossana Orlandi has recently launched a very special competition – the Guiltless Plastic Prize. Designers of all ages and backgrounds are invited to submit their ideas to give plastic a new life. Or – as she would say – to make plastic guiltless.
The best projects will be exposed at Rossana Orlandi Gallery during Milan Design Week 2019. A jury will choose four final winners that – besides winning a monetary prize – will also be put in touch with production facilities to bring their product to the market!
Meet the winners of Guiltless Plastic 2019
building materials
Stones, tiles and all kinds of construction materials are discarded every day during demolitions. But creative designers are now turning debris into new products, making them beautiful as never before!
Plaster is turned into minimal lampshades, and what's left after building demolitions makes the bricks of the future!
food waste
Upcycling food waste into sustainable design products is another mind-blowing innovation in the design industry.
Take coffee grounds for instance. Lebanese designer Paola Sakr collects coffee grounds from local coffee shops, mixes them with newspaper pulp and a natural binding agent, and voilà, she has created a new set of biodegradable containers!
And what about the food waste we all produce at home? Japanese designer Kosuke Araki produces tableware out of it! The process is hard to believe. It all started with a preparation period, where he diligently collected all the food waste he produced at home for 2 years, ending up with 315 kilograms of stuff. Then he burnt vegetable waste into charcoal and boiled animal bones & skins to create a glue-like paste that he used to mould the charcoal. Finally, he added Urushi – a traditional Japanese lacquer – to give a shiny finish and additional strength.
Upcycling waste into new products is only one way of creating sustainable designs. For more on this topic, you're welcome to check out riivin, the sustainable interior design platform I curate!
Cover image by Vert Design Studio (via Instagram)