sustainable design highlights from stockholm furniture fair 2020
Interior design fairs are always occasions to hunt for the latest news. And lately, they're also a great place to discover sustainable design innovations, may these be new materials, new uses of well-known materials, circular design projects and more.
So, after having met 3 new sustainable brands launched at Maison et Objet 2020, today we're looking into 3 (+1) sustainable design highlights from Stockholm Design Week!
woodio: the new face of wood
"Yes, it's wood". This intriguing slogan anticipates there's something to be discovered. And indeed, Woodio makes bathroom sinks and bathtubs out of wood!
To make them suitable for a wet area like the bathroom, real wood chips are mixed with resin-based adhesives. This creates a fully waterproof composite that can then be moulded into basins. The result is a unique terrazzo-like texture that opens an array of design possibilities on the side of standard solid-colour basins!
Sustainability is at the core of Woodio's vision. Starting with the main raw material – aspen wood – that is locally sourced in Finland. Walking down the product lifecycle, a study has quantified the carbon footprint of Woodio's basins to be 55kg lower than standard ceramic basins. And now the final question: what happens when products are to be disposed of? Woodio has taken this too into account and its basins can be burned as energy source at the end of their life! So nothing goes to landfill!
tarkett: eco-friendly flooring
Tarkett is a flooring producer with a sustainable mindset.
From engineered wood flooring, to natural linoleum and vinyl, Tarkett has obtained a Cradle to Cradle certification on many of its products.
The Cradle to Cradle certification checks for numerous sustainable design elements like safety, materials that are reused in multiple production cycles, mindful use of natural resources and ethical manufacturing processes.
In line with the principles of the circular economy, Tarkett is reducing the amount of virgin material that goes into production. To start with, this translates into re-circulating production waste. Also – with the ReStart program – Tarkett collects installation offcuts from sites and takes back used floorings that are cleaned and reused to produce brand new floorings!
At Stockholm Furniture Fair, Tarkett has launched iQ Natural: a new homogeneous vinyl flooring made with around 75% natural or renewable raw material. iQ Natural is free from phthalate plasticisers. Namely, it doesn't contribute to indoor air pollution. It is also part of the ReStart program, ensuring all the vinyl that is manufactured can be used in production over and over again.
vestre: sustainable cities
Vestre is a Norwegian brand that brings sustainable design into urban planning. From benches to trash bins, it produces all sorts of urban furniture – with a special eye on sustainability.
In particular, Vestre has committed to various UN's Sustainable Development Goals:
4- quality education
7- affordable and clean energy
8- decent work and economic growth
9- industry, innovation and infrastructure
10- reduced inequalities
11- sustainable cities and communities
12- responsible consumption and production
13- climate action
This translates – among the rest – in making durable products, all crafted out of locally sourced raw materials and manufactured in Norwegian & Swedish factories powered with 100% renewable energies.
Among the news presented at Stockholm Furniture Fair is Code; a modular system made of seats & planters that can be easily arranged to create green seating areas in the middle of the city. A biophilic design take on urban design that can only benefit our modern cities!
Like all Vestre's products, Code uses PEFC-certified pine from Norway and Sweden, which is particularly suitable for outdoor use. Also, all metal parts are treated with "hot-dip galvanization", a special process that prevents rust ensuring exceptional durability.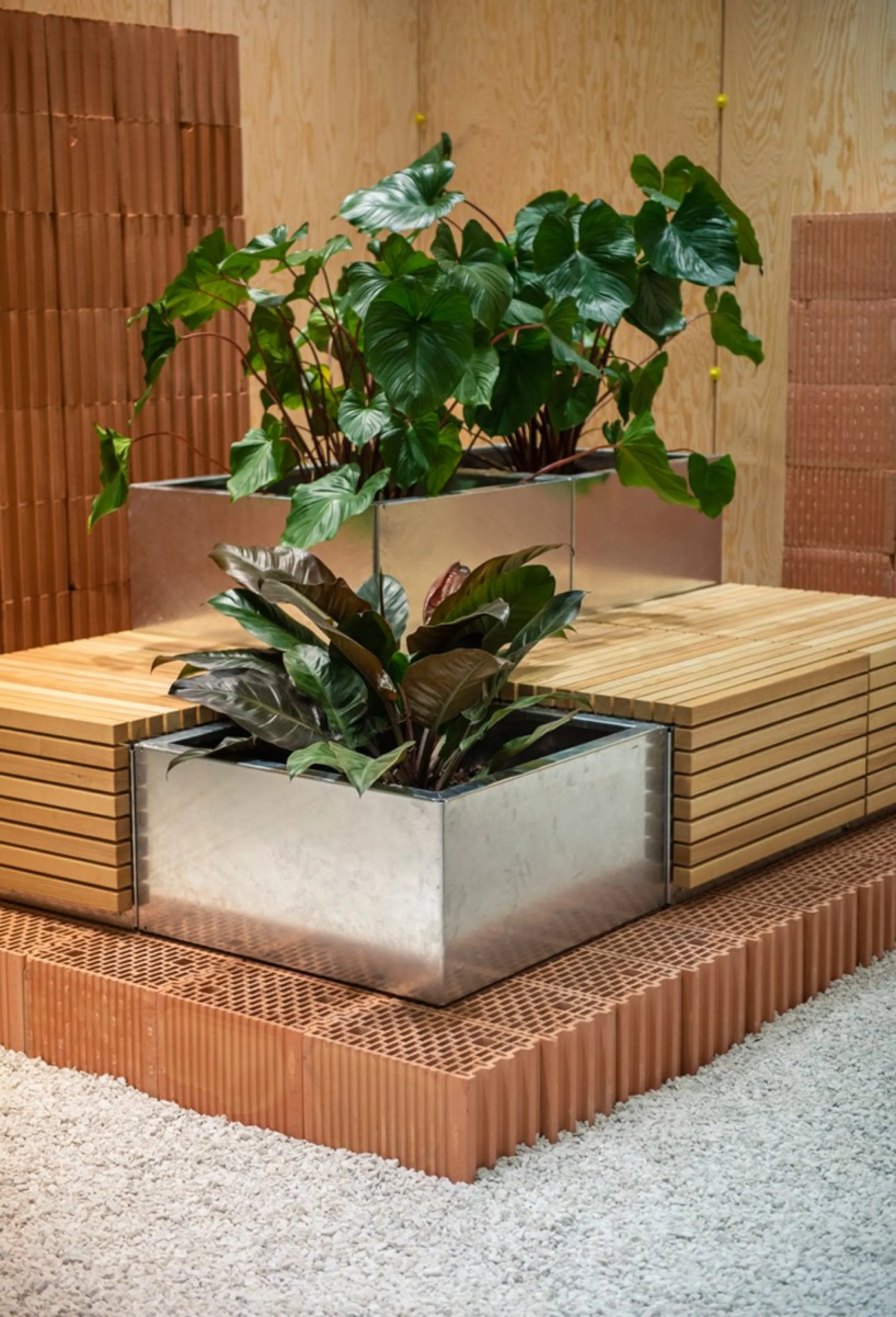 Last but certainly not least, Vestre's booth (designed by Note Design Studio) has been named Best Stand 2020. The main reason has been its ability to address an interesting – and often overlooked – point: what happens after a fair? Where do all the pieces of a stand go? To tackle this problem, Vestre's booth has been designed with bricks, wood and gravel: all materials that can fully be reused once the fair is over!
design house stockholm: zero km furniture
Designed by Alexander Lervik for Design House Stockholm, Terra is much more than a chair. It is a challenge to our current production model!
It all starts with an overall consideration of what sustainable means. It's a fact that the sustainability score of a product relates to its entire supply chain. Transportation costs clearly play an important role, which can become even more of an issue when paired with unfair working conditions in faraway countries. And here is where the concept of zero km furniture can help.
The solution is shifting to a so-called worldwide local production method. This is done by setting up thousands of workshops around the globe, all equipped with laser cutters, CNC-equipment and trained on the company designs. Furniture is then purchased online and made to order in the workshop that is closest to the customer, thus cutting on overall transportation costs drastically! Terra is just the first product, but this new supply chain model introduces another strategy to move the design industry in a more sustainable direction!
For more inspiration on this topic, head over to riivin: the sustainable interior design platform I curate!