sustainable interiors: a co-working space designed for circularity
Material choices and construction methods are among the most important elements in defining the sustainability of a space.
The brief of this office/co-working space was using only biodegradable, reused, or upcycling-based materials, with a circular design approach. Let's explore!
reduce, reuse, recycle
Material choices in this project are guided by circular principles. The flooring is an heirloom of how the space looked before the renovation. Both the terrazzo and the wooden flooring were already in place and an irregularly shaped plank was added to connect the two, turning a damaged edge into an element of interest. Solid poplar wood is used for several elements in the design, such as furniture and the suspended ceiling.
Keeping with a circular design approach, some elements of the space (such as the radiators and lighting) were sourced from a platform of products and materials available for reuse. To match them to the style of the space, the light fixtures have been encased in a wool felt covering – a creative idea that shows how second-hand pieces shouldn't be seen as a limit to aesthetic choices. All materials employed in this project have been listed in a public "material passport" to contribute to the circular flow and facilitate future reuse.
material palette
All the new materials selected for this space embody the project's care for sustainability. Honext – a paper waste-based material – is used for the wall cladding. Kitchen cabinets are made with Really – a solid material made out of textile waste. And acoustic panels are made with Troldtekt, a wood+cement composite that's Cradle-to-Cradle Gold certified.
Furniture selection also follows the same principles. Stools are made of Neolign®, a composite material that reuses wood chips from industrial wood processing waste. And office chairs are designed for easy disassembly and material reuse.
construction methods
For a circular flow of materials to actually happen, it's important to build so that material recuperation will be possible at a later stage. In this project, solid wood pieces are assembled avoiding the use of glue, making them easily demountable. Smartly, the wall cladding is fixed in place with Velcro, resistant yet easy to undo!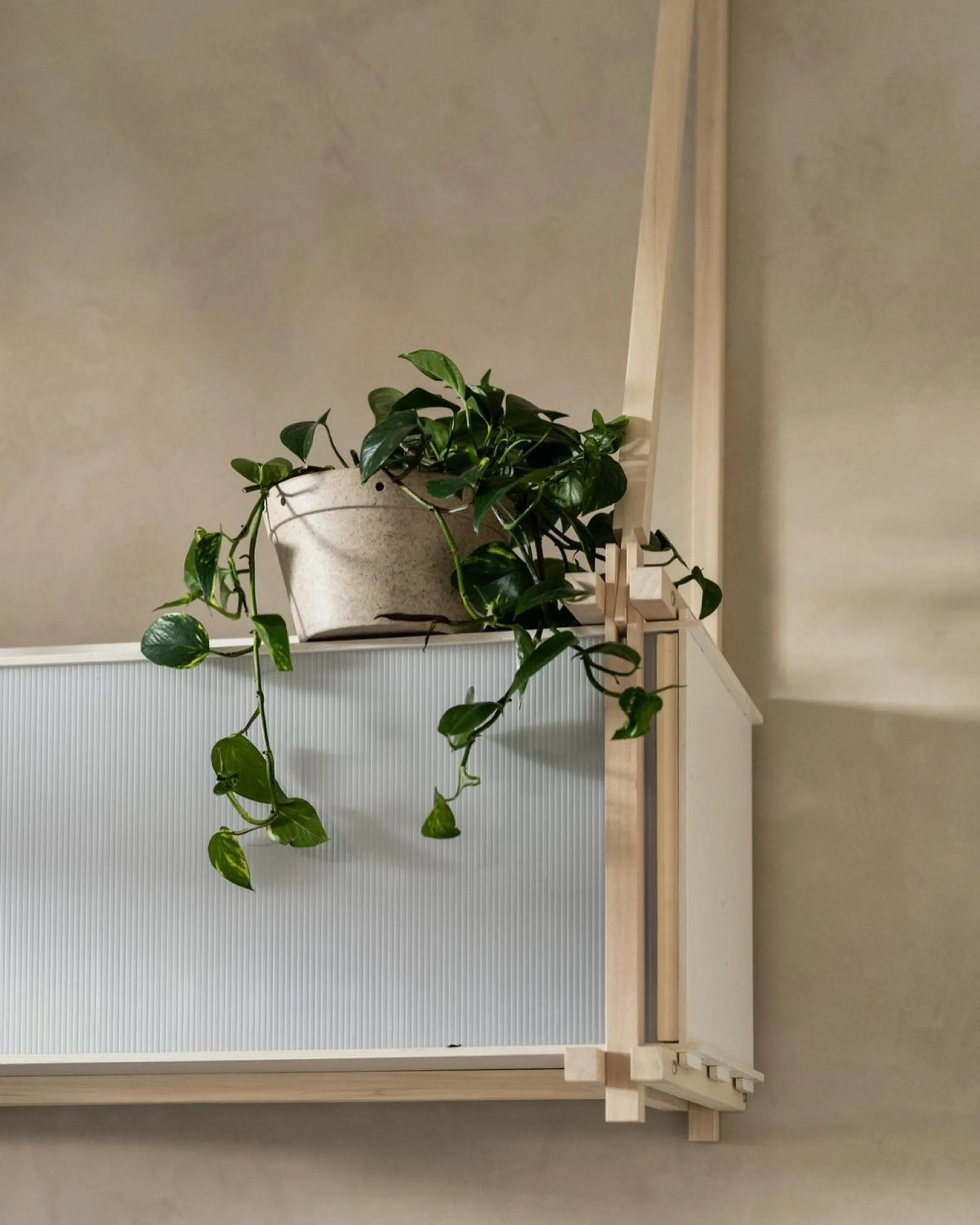 Designing interiors for the circular economy involves every aspect of a project. From material and furniture selection to building methods it all starts considering the project at hand as only one of the lives of the materials in use. A fundamental mindset shift but also a fascinating challenge!
Design: Urselmann Interior