biophilic moodboards: outdoor views
Since strengthening the connection between people and nature is the main objective of biophilic design, it doesn't come as a surprise that outdoor views are key.
But not all views are the same. So let's talk about outdoor views in biophilic design, starting with the Biophilic Moodboard of this month!
which outdoor views are best for biophilic design?
Let's start with the burning question. Here are the main features that make an outdoor view ideal for a biophilic design:
It looks onto a natural landscape or natural elements.
It's not only visible, but can be experienced with the other senses as well (for example, a particular scent or sound can be perceived, plants are easy to reach and touch…)
It includes a water feature.
It either leaves the view wide open (namely a prospect view) or covers it partially, giving a sense of mystery.
It reflects the ecology of the local environment.
These elements can't always be achieved all at once, but they're some of the things to consider when looking at existing views or creating new ones.
the benefits of outdoor views
A view onto nature breaks the boundary between indoors and outdoors. It makes nature part of everyday life (not obvious when living in the city) and brings various wellbeing benefits. These include lowered stress levels, improved concentration, and an overall sense of happiness. * If nature can also be touched, smelled and heard, the experience becomes even more engaging. And – involving our more ancestral senses – its benefits will be amplified as a result.
designing for outdoor views
To make the most of an outdoor view, it's important to consider it as part of the design, like a stunning piece of art that needs to be highlighted. This can translate in different design strategies, like:
creating an outdoor view
A view over a stunning landscape is quite a premium feature and not all interiors can have it. Still, all is not lost, as outdoor views can also be created!
balconies, patios and gardens
Any balcony, patio, garden and even a window sill can be turned into some sort of biophilic view. Greenery, water features, stones etc. can be combined to introduce nature even in the middle of the city. Not to mention that these "crafted" views will also add privacy, helping to shield the space from neighbours' eyes.
internal courtyards
Another option are outdoor spots carved inside a building, the so-called internal courtyards. They definitely require more work and fall into the scope of a full remodel, but they still deserve a mention as the final effect is breathtaking!
green buildings
When it comes to crafting a view onto nature in the middle of the city, green buildings are an ideal example. These buildings are specifically designed to host plants in their structure. These plants enrich the interiors with a natural view to be experienced and looked at from the inside. Plus, they clear and cool the air outdoors, serving the entire neighbourhood!
When crafting an outdoor view, quality is more important than quantity. Indeed, it has been proven that the diversity in the view (i.e. the amount of different natural elements and wildlife it features) is more important than its actual size. * So even a small balcony can make a big difference!
Also, style becomes part of the game as well. From planters to plant arrangements, everything can be designed to follow the style of the interior. Here, the challenge is creating a patch of nature that flows with the interior while reflecting the local environment. Which brings me to my final point…
the importance of native plants
Whenever choosing plants for the outdoors, it's important to prefer native plants. From a biophilic perspective, this will connect the space to its surroundings, giving it a more authentic identity. But native plants also make sense for the environment. Indeed, any outdoor plant interacts with the environment in one way or another. All plants attract wildlife and – if planted directly in the soil – they also influence its delicate composition. In short, native plants strengthen the local environment and – on a global level – they help promote biodiversity. Which we know is extremely precious to keep our planet in balance!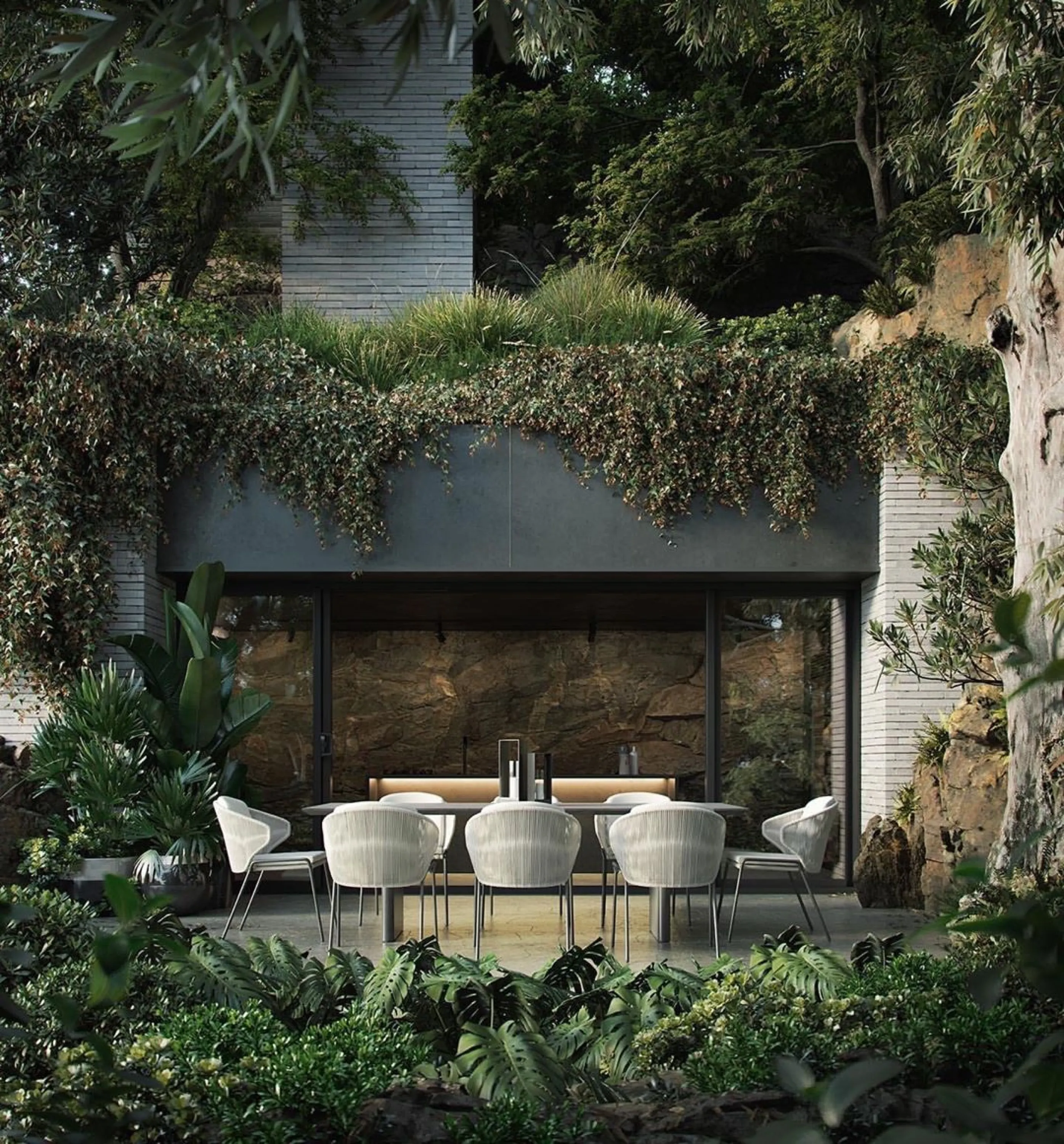 * Sources
Brown, D.K., Barton J.L., Gladwell V.F. (2013). Viewing Nature Scenes Positively Affects Recovery of Autonomic Function Following Acute-Mental Stress. Environmental Science & Technology, 47, 5562-5569
Van den Berg, A.E., Hartig T., Staats H. (2007). Preference for Nature in Urbanized Societies: Stress, Restoration, and the Pursuit of Sustainability. Journal of Social Issues., 63 (1), 79-96.
Biederman, I., Vessel E. (2006). Perceptual Pleasure & the Brain. American Scientist, 94(1), 249-255
Barton, J. & J. Pretty (2010). What Is the Best Dose of Nature and Green Exercise for Improving Mental Health. Environmental Science & Technology, 44, 3947–3955.
Fuller R.A., Irvine K.N., Devine-Wright P., Warren P.H., Gaston K.J. (2007). Psychological benefits of greenspace increase with biodiversity., 3Biol. Lett.
Vogt B. A New Garden Ethic: Cultivating Defiant Compassion for an Uncertain Future. New Society Publishers.
The 14 Patterns of Biophilic Design is a framework conceptualized by Terrapin Bright Green